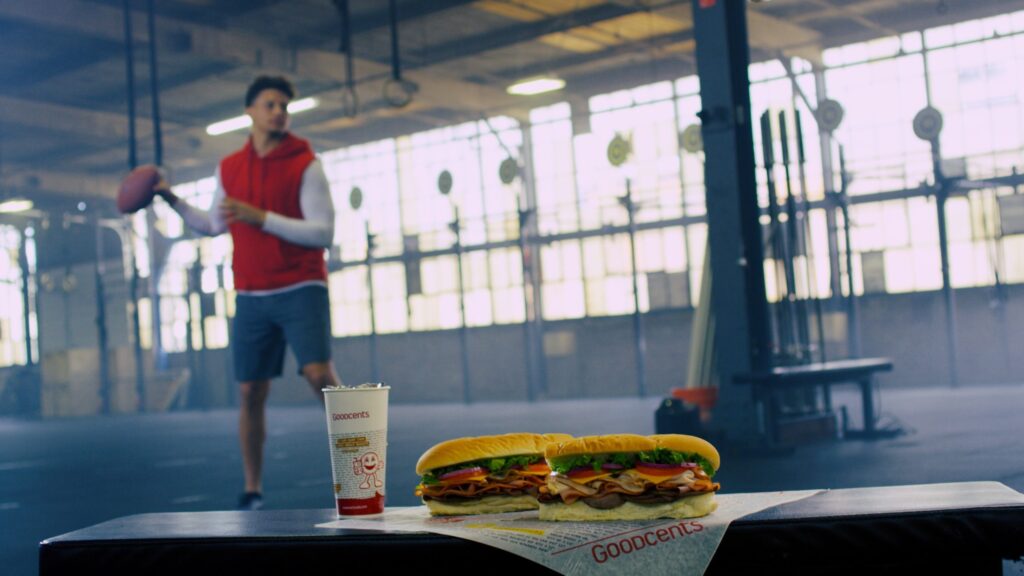 The stadium might look a little different this year, but one thing you can count on is that you'll see a lot of Patrick Mahomes as the big game nears.
Mahomes, quarterback for the Chiefs and MVP of last year's championship game, is one of the most promoted and recognized football players today. He's also one of the most sought-after for endorsements. Mahomes' relationship with Goodcents has been reported by many media outlets – great publicity for the national sub sandwich franchise that's proud of its deep roots in the Kansas City area.
The use of sports stars to endorse products or companies has a long history, starting with Babe Ruth, who was paid to endorse Red Rock Cola in the 1930s. Industry experts say Nike perfected the art of the endorsement when it signed Michael Jordan to boost its brand in the 1980s.
Goodcents' commercial featuring Mahomes – there are several versions in various lengths – has been watched more than 5 million times on YouTube. The commercial delivers the message that good things happen when you work at them, whether you're a football star or a Little League player or a local sandwich shop.
Likewise, Goodcents' commercial featuring Matt Besler, a native of Overland Park, Kansas, and the former captain of Sporting KC, is a celebration of local athletes at every level and the families and communities that support them. Besler is widely regarded as a class act in soccer circles, and so his association with Goodcents was a natural pairing. The Besler commercial focuses on legacy, persistence and family.
The positive, inspiring messages of both spots, and the fact that they are delivered by star athletes, reflect well on Goodcents and are perfectly aligned with the brand's longtime support of community sports and young athletes.
Brands employ celebrity endorsements because they work. For franchisees, the benefits of a strong celebrity endorsement include:
Branding: An endorsement can make an advertisement and a brand more memorable. Customers who recognize the celebrity are more likely to remember which brand he or she endorses. The celebrity can help to convey some of the brand's key messages, and a celebrity with a positive reputation can share values that are aligned with the brand's intended image.
Differentiation: An endorsement helps a brand stand out among its competition. Some athletes are in particularly high demand for endorsements because every smart business wants to be associated with a winner who also is a role model. Endorsement contracts almost always contain a clause that disallows the celebrity from endorsing a competitor.
Influence: An endorsement fosters good feelings and admiration for a brand. Celebrities like athletes wield a lot of influence over their fans and can help to sway consumers toward purchasing a particular product. Even a casual mention of a brand on a celebrity's social media can make a huge difference with fans.
Reach: An endorsement often leads to valuable coverage in major media outlets, such as sports channels or magazines. National-media mentions help a brand extend its reach to a broader audience, which would likely include many prospective new customers.
Goodcents's use of sports stars with Kansas City connections is great for the brand. It makes Goodcents more memorable, fosters good feelings about visiting a neighborhood restaurant and helps locations attract new customers. Goodcents' commercials are the real MVPs of the brand's marketing plan.