Goodcents is a quirky neighborhood shop that people from all walks of life, from working singles to busy families, have loved for years because of our unique character and commitment to high-quality food.
Goodcents continues to experience record annual unit volumes (AUVs)! The AUV in 2022 for our top 25% of restaurants was $1,116,922. Goodcents' top 50% of restaurants grew to a record $965,521 (see Item 19 of 2023 FDD for additional information).

Goodcents is a growing restaurant franchise opportunity with over 34 years of industry experience and multiple revenue streams!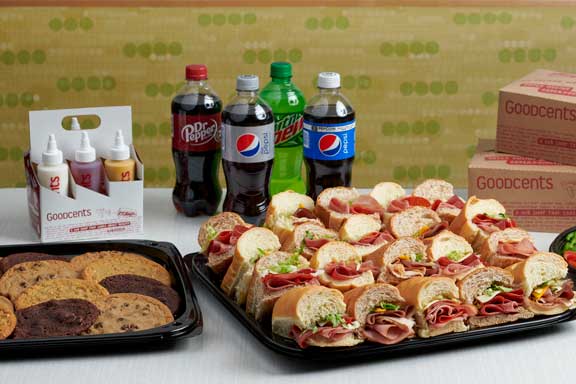 Catering
Our guests want subs, pasta, cookies, chips, even individualized box lunches… we can do that and a whole lot more!  What a great opportunity to introduce new guests to our iconic brand!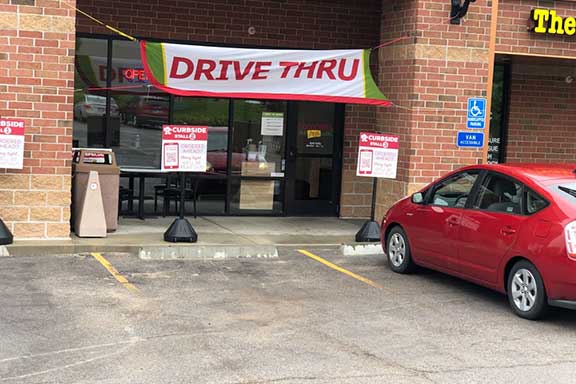 Curbside
Good food delivered right to your car!  Adding this convenience has been very popular with our guests, meeting the demands of today's busy consumer!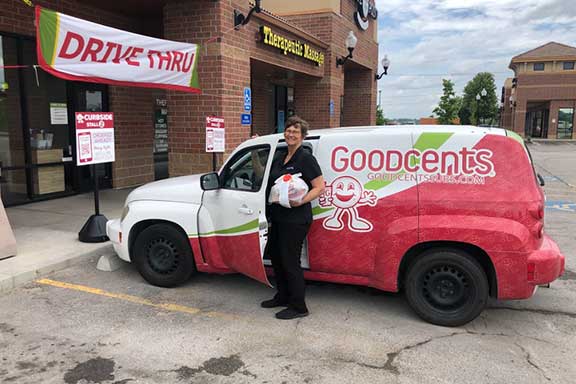 Delivery
We've been delivering good food that makes Goodcents for over 30 years! Now, with multiple Delivery Service Provider partners, it's even easier to give our guests the good food they crave.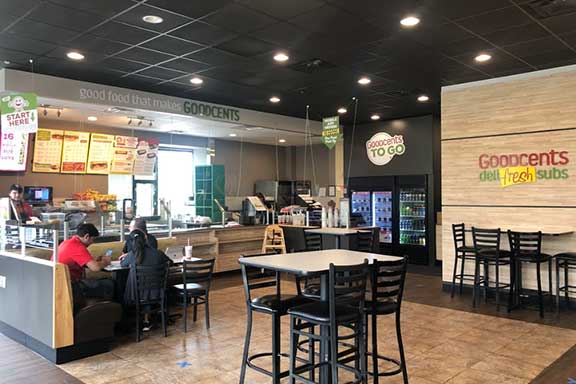 Dine In
We love when our guests have time to enjoy the full Goodcents experience by dining in at one of our restaurants.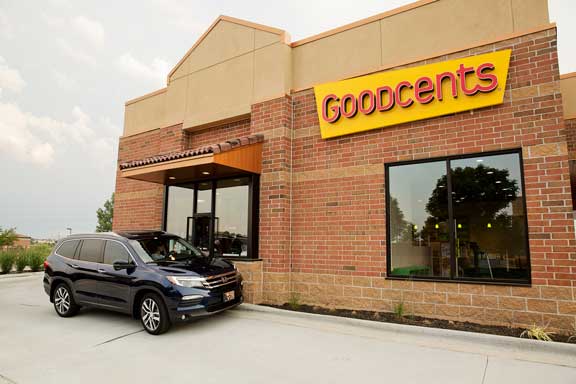 Drive Thru
Convenient and fast options for our customers to drive thru and pick up lunch/dinner on the road.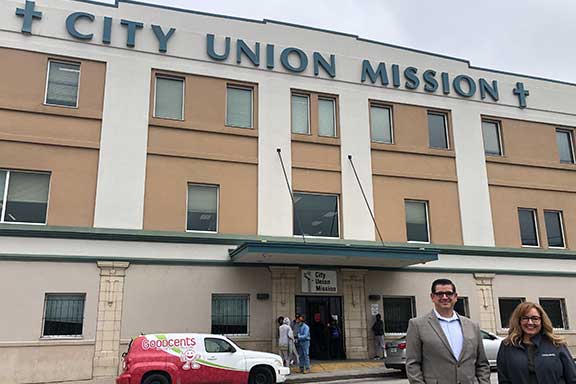 Giving Back
Since Joe founded Goodcents in 1989, we've always encouraged our franchisees to become the Mr. or Ms. Goodcents in their community.  There are so many ways to give back, we can host fundraising events, cater for local teams/community groups, and much more!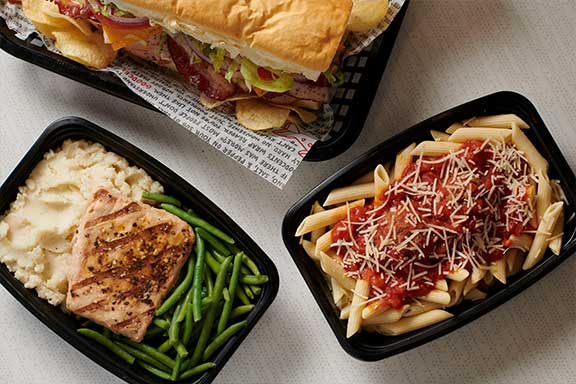 Goodcents TO Go
 Introduced systemwide in early 2020, Goodcents To Go has provided an additional revenue source for our franchisees, with minimal additional investment.  From guest favorite Chicken Alfredo to Classic Pot Roast, we have flavors for all taste buds, conveniently packaged and ready to go.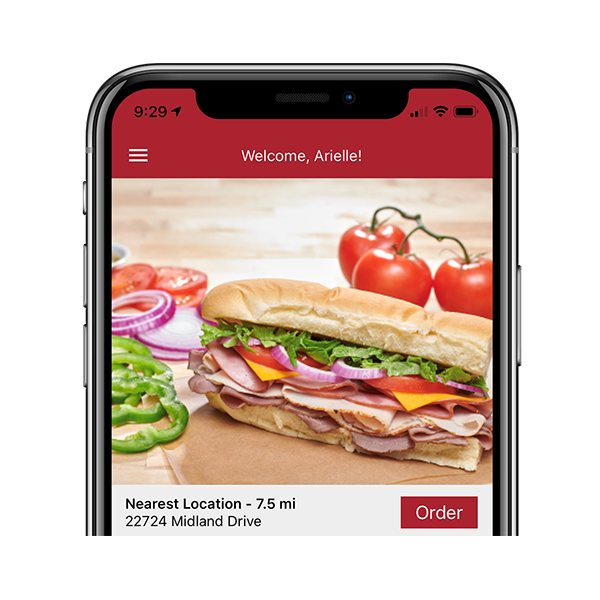 Online Ordering
Perfect for our guests that need fast, friendly service. Order ahead to add the convenience of grab and go.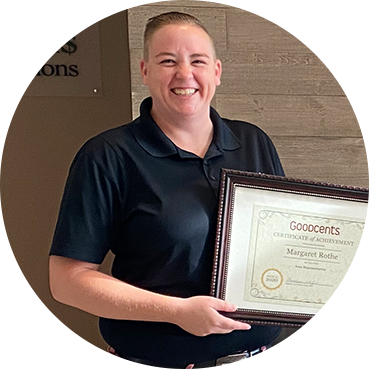 Maggie Rothe
Area Representative
"Having a successful business requires having a team behind you executing the brand and a team that helps lead you in the right direction. Goodcents team leads us into new opportunities, new innovation and new developments. I made the right choice choosing Goodcents, they have helped me succeed by laying out a plan of success, as long as you follow their guidelines you can become successful in your own business."

MY LOCATION:
St Louis, MO

FAVE GOODCENTS SUB:
Ultimate Club on White with Provolone Cheese and Standard Dress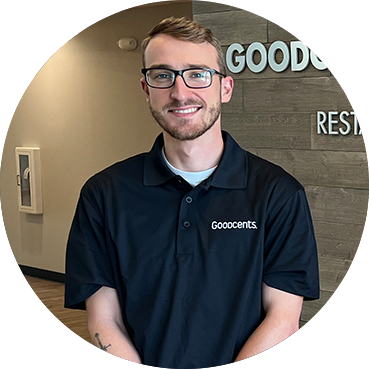 Theodosius Vogt
"I came to Goodcents at 16 years old. Maggie Rothe took me in and treated myself and all of her employees like family. It didn't take long for Goodcents to be like my home.  I would look forward to work and go in on days off to hangout. Even when I didn't have a clear direction in life, Maggie helped me figure out where and who I wanted to be. This is why I am so passionate about Goodcents!  The Goodcents way is to provide a place for people not only to make a paycheck but to feel like family at work. Without Goodcents and Maggie, I very much doubt I would be in the position to try and own my own business."

MY LOCATION:
St Louis, MO

FAVE GOODCENTS SUB:
Ultimate Club on White with Cheddar Cheese, Pickles and Mayo

MY VIBE:
Developing Leaders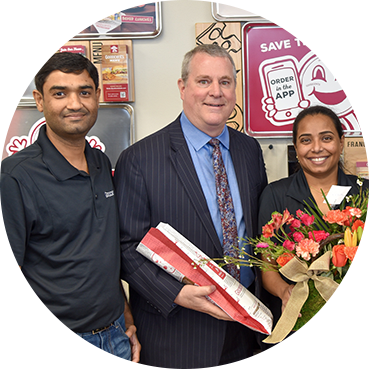 Harry & Shveta Patel
"We really enjoy owning our Goodcents.  We have owned gas stations and liquor stores before but Goodcents is exactly what we were looking for.  My first job was in a restaurant when I was a teenager.  Now finally owning the restaurant is like a dream come true.  Also our team makes it really easy to run.  All our team members work really hard and we are very thankful to have them.  And of course Goodcents corporate team is the best corporate team we have ever met!  They are always ready to help us with anything we need.  They really helped a lot in set up after our remodel.  They made our store look like a brand new restaurant.  We are looking forward to owning more Goodcents locations soon!"


FAVE GOODCENTS SUB:
Veggie Sub on White Bread

MY VIBE:
Hanging out with our two sons. They tell us that Goodcents sandwiches are THE BEST!