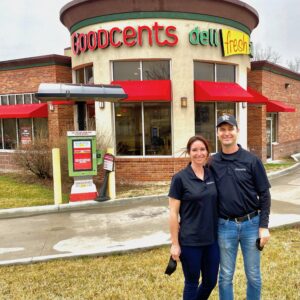 Lindsay and Jake Campbell have talked about owning their own business for years, but the timing was just never quite right. Then the COVID-19 pandemic came along, and while Jake was furloughed for a couple of weeks, the couple gave some more thought to owning a restaurant again.
"There's a little bit of the American Dream there, the idea of controlling your own destiny," Lindsay says. "Of course, you can never control everything, but … This just seemed like the right time."
This month, the Campbells' dream came true when they closed on an existing Goodcents restaurant in Leavenworth, Kansas. "We are going to start with this one location, and hopefully, just keep going and going as we expand our business," Jake says.
The couple's entrepreneurial dreams were inspired by Jake's dad, who has owned an insurance agency in a small town for 25 years. And so in 2020, while they were working from home together, they began to seriously research the opportunities available in the restaurant franchise industry.
The Campbells were attracted to franchising because neither of them has a background in the restaurant industry. Lindsay's background is in data analytics, and Jake's is in financial planning.
They looked at several fast casual restaurant brands, but none were just the right fit. Then Jake came across a Goodcents location for sale, and he got excited. A longtime Penny Club fan, he confesses to eating "at least three times a week" at a Goodcents two blocks away from his first job after college.
Awesome sandwiches aside, the more the Campbells learned about Goodcents as a business opportunity, the more they were convinced that it was the brand for them.
"One of the things I loved about Goodcents is how much they care about quality in their ingredients, and they stand behind that," Lindsay says. "They care about training. They care about values. They care about integrity."
Jake appreciated how thorough Goodcents' training program was. "The training is a six-week program, and it is awesome," he says. "Even the support they've given us through the process of buying the restaurant has been amazing. They make sure everybody is there for you and that you aren't just walking in and trying to learn everything at once. It's been great."
The couple acknowledge that buying a restaurant during a pandemic came with a few challenges. "We pursued a few other opportunities, but they fell through. I really believe things happen for a reason, and I feel this is exactly where we're supposed to be," Lindsay says. "We love that Goodcents is a hometown brand that stands for good things, that they care and they give back to the community. We are so excited to build our own successful business with Goodcents."