Goodcents and millennials may be a perfect match.
Goodcents wants smart, hard-working entrepreneurs to open restaurants. Millennials want to be their own boss but don't have a lot of business experience.
That lack of business experience makes a franchise opportunity like Goodcents' ideal for millennials. A proven business model and strong corporate support helps to fill in the blanks in their business background. And millennials are comfortable asking for help and seeking out mentors, so they would appreciate the guidance a franchisor like Goodcents provides.
When it comes to franchising, a restaurant franchise is tailor-made for millennials. As a whole, millennials eat out more frequently than any other generational group. Additionally, Goodcents prefers (but does not require) franchisees who have some previous restaurant experience, and many young adults have worked in restaurants at some point.
Why are millennials drawn to business ownership?
In a 2020 GoDaddy study, 56% of millennials said entrepreneurship is a long-term goal, and 30% said they already had a small business or side hustle. Millennials, now aged 25 to 40 and comprising the largest American generation, are motivated to control their own destiny. In addition to the COVID-19 pandemic and the unstable job market that accompanied it, many millennials were in college or had started a career during the last recession in 2008.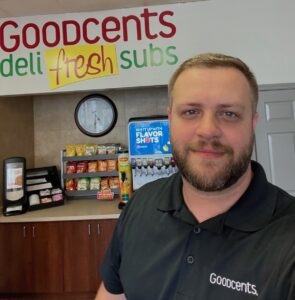 Ian Darnell, 32, started working at Goodcents in St. Peters, Missouri, in 2007 became the store manager in three months. When his longtime franchise owner retired earlier this year, Darnell purchased the franchise and became the store owner. "It was an amazing opportunity, so I jumped on it," Darnell says. He hopes to pass the business on to his children someday.
Millennials most likely associate owning their own business with financial independence and flexible work-life balance, two ideals that appeal to the generation as a whole and that are natural expectations for the owner of a successful small business.
Millennials also strongly value philanthropy, with almost three-quarters donating money during the pandemic, according to an August report by Candid and the Center for Disaster Philanthropy. That interest in giving back aligns with Goodcents' strong ties to the communities that the restaurants serve.
Earlier this year, Goodcents launched a new campaign – "Eat Good. Do Gooder." – that will donate 50 cents of every Goodcents To Go meal to the Goodcents Foundation, which will grant donations to local nonprofits in Goodcents communities. And in 2020, the Goodcents Foundation created a "Pay it Forward" initiative that gave Goodcents customers the option of donating a pound of meat or cheese for $5 to local nonprofits; more than 8,700 pounds were donated.
Why should millennials choose Goodcents?
The advantages of franchising center around corporate support, and Goodcents offers its franchisees:
Site selection assistance, including helping to negotiate favorable terms
An award-winning training program, which provides hands-on experience before opening
An established supply chain with distribution centers open in existing markets
An innovative marketing team that handles social media and helps leverage national branding and build a local marketing plan
Technology, including an online ordering system and a mobile app
A menu full of popular, delicious products
Grand opening assistance to help plan a great event to launch the business
Additionally, Goodcents' multiple revenue streams – online ordering, catering, delivery, dine-in, curbside pickup, drive-thru and Goodcents To Go meals – perfectly positioned the brand to successfully weather the challenges of 2020 and sets up new franchise owners for success in the future.
Millennials worried about financing may be pleasantly surprised by how low interest rates and how favorable Small Business Administration loan terms are right now. That's one aspect of the pandemic that has helped new business owners.
With a strong presence in the Midwest, Goodcents is interested in developing new markets across the U.S., and especially in key markets such as St. Louis and Phoenix. New franchise owners could buy and operate a single unit, sign a multi-unit deal or even become an Area Representative. Millennials have numerous career opportunities and options for business ownership with Goodcents.
If you are interested in learning more about whether Goodcents is the right franchise for you, please email Jami at [email protected].